SEPTEMBER 26,2015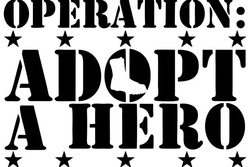 Veterans and their families have shouldered this
responsibility for all Americans, and now, Operation: Adopt A Hero (OAAH), has stepped up to give back to all those brave men and women who have carried that heavy burden of Freedom so the rest of us can keep the independence we so enjoy.
OAAH is a community-based organization created to reach out to all veterans, active, reserve, and retired alike, and bridge the gap between them and their local community by promoting and hosting social events, gathering individually oriented resources to aid vets and their families in building a life both inside and outside the military, and building a link between the community at large and the veterans and their families in order to create a lasting, beneficial, symbiotic relationship.
Operation: Adopt A Hero is a program of Battle Flag Ranch.
---