Mission Statement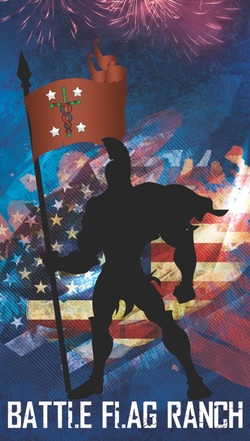 To provide respite in a safe environment to battle weary veterans and their families in order to come away with tools to reengage in life.


Company Overview
Since the war in Afghanistan began in 2001, the divorce rate among military couples has skyrocketed by forty-two percent. War puts a tremendous strain on families, particularly young couples with children. Thus, its comes as little surprise that the wars in Afghanistan and Iraq have placed extreme pressure on many marriages. However, most people are innocently uneducated to the actual staggering present statistics of the casualties to marriages and families across the nation. Simply put, it can be very difficult to leave a war zone and reenter the relatively peaceful world of family life. We strive to help build the bridge between these two worlds.

Description
Our Battle Flag and the meaning behind the symbol & colors choosen:

Main flag body- Scarlet=Wisdom
Gold Fringe=Integrity & Loyalty
White= Family & Faith
Orange=Commitment & Endurance
Red= Courage & Growth
Black= Legacy
Green = Hope & Balace

The Four stars represent:
-To Remember
-To Recall
-To tell our story
-To bear the burden

The symbol is the DNA structure of a substance called Laminin. The medical definition describes it as a glycoprotein that is a component of connective tissue basement membrane and promotes cell adhesion. In other words, it holds cells & tissue together and it's the shape of a cross. Meaning we can hold it together because of the cross. Family bonds can't be broken if we trust in the cross and God who sent his son to die on it for us.


We are actively searching for fellow Americans who are willing to put their "hands up" and help, not just give "handouts." Now more than ever, we need people who are willing to stand up and protect the veteran and the family. People who understand unit integrity and service. People who understand the true core of American values. As more champions emerge to help, we can truly strive to live out the meaning of the words "love thy neighbor" by putting as much effort into helping others as we do helping ourselves. We believe that through this mission, we can reinforce and remobilize what America needs most: strong families. This will build a stronger nation. More than just an idea or rhetoric, we are indeed still "One Nation Under God, Indivisible, with Liberty and Justice for all."
---