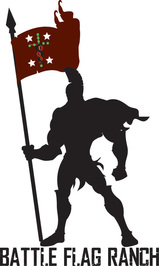 Welcome to Battle Flag Ranch
A 501(C)(3) CHARITY HELPING MILITARY FAMILIES
At Battle Flag Ranch, we live to serve the selfless. As a veteran myself who returned home from the dangers of war in Afghanistan, my family and I understand the difficulty of reentry into "normal" life with family and friends. Truth is, life just no longer feels normal. Our heart breaks and our souls bleeds over the pain of each and every serviceman and servicewoman who may have physically survived the horrors of war abroad, but whose families now face the threat of destruction at home. We are a short term respite for battle-wearied veterans and their equally weary spouse, providing safety and sanctuary as they relearn the delicate art of love and communication in marriage.
Special Note
Please note that we have our 501(c)(3) status and we currently rent property for Battle Flag Ranch. We are currently looking for our own property and would welcome a land donation.